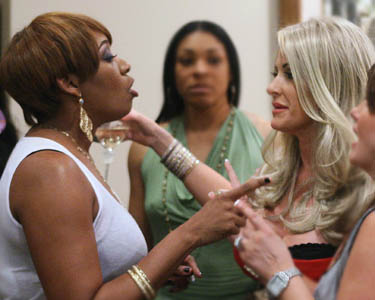 Let me start by saying this: I'm A G.
You may laugh and some may disagree but that would depend on their definition of the term. After a quick jump over to the
urban dictionary
, in an effort to find the technical hood definition (if there is such a thing), I found that a G can be defined as a Gangsta, or as a term of endearment. Of course gangsta has a negative connotation as perpetuated by movies like the Untouchables and the more relateable Boyz In The Hood. But keepin' it gangsta can also mean keepin' it real. Being a stand up person. Being G-enuine. That's the type of G I am. Self proclaimed. I don't carry a glock and I don't have a knot of bills in my pocket, but I like to think I have a stronger arsenal. One filled with ammunition such as integrity, candor, and humility.
These days we may see deceivingly assertive women like Evelyn Lozada of Basketball Wives and Nene Leakes of Real Housewives, that we may mistakenly characterize as gangsta. A loud mouth with an opinion and a vocabulary rich in profanity does not a gangsta make. In truth, most people familiar with those of the gangsta persuasion will tell you, real G's move in silence. An example being President Obama, when he was running for office up 'til now. His adversaries have a whole lot to say while he quietly executed a plan to literally rule the world. That's the type of G I wanna be. One who is strategic and calculated. Smart and educated. And one who ultimately wins (a la Charlie Sheen, a G in his own right some might say). Too bad the Brooklyn in me makes it hard to keep that other G down.
The one from Bed Stuy Do or Die who at times wants to just say, "All these b*tches is my sons".
Read More...
I mentioned the reality tv ladies before because I hate female drama. No really I do. I know every woman says that but I'm saying it again. Sue me. Yet somehow, once in a while we all end up caught up in some. I can charge it to that being a part of life or I can just say, these chicks out here are crazy (people could say myself included, but I'll leave that to them). I always say people are crazy 'cause I happen to believe it. But when dealing with people, especially over a period of time, conflict is unavoidable. Even with the sane ones. It's the nature of the beast. Add to that the age we live in of BBM status updates, LiveProfiles, FB, Twitter, Tumblr, and it's all too much. Too much to keep up with and too many ways for people to just talk, talk, talk. And talk. And talk. And conflict.
A few days ago, a girl I know talked entirely too much. She made a few subliminal snide comments but not enough for me to confront her without looking like a fool. So I fell back. Oh but the G in me? The G in me wanted to find her and go all Tammy (another basketball wives reference, blame the reruns) on her. Okay not that crazy. Maybe just a mush. But then I had to say to myself, or rather call someone (my cousin and bestie) and have them bring me back to reality. You need that sometimes. Well atleast I do. When I let people get under my skin, checking them seems to be the only viable option. But then I remember two key things: One - I
let
them. And two -
Real G's move in silence.
They weren't lying when they said the best revenge is success. There isn't always a need to put someone on blast. Your actions will do that. I find comfort in knowing that I'm okay with me. As long as I feel like I'm keeping it a hundred, my actions will speak louder than my words. When we let others take us out of our character, now that's not G at all. I almost pulled a Wangsta move the other day, for real. I needed to be reeled back in. Quick. I wasn't going to literally mush the girl but I probably could have made a fool out of myself, by even divulging the fact that I was aware of what was said. We can be so easily drawn in, that we end up looking just as silly as the person creating the mess, if not more. I'm glad that even though I lost my cool for a minute, I stuck to the G code.
Told ya'll I was a G.
What does keeping it G mean to you? What is a real G to you? Have you ever pulled a wangsta move?